Standard Flap Machine Insertable Envelopes
All reverseflap.com envelopes are designed and engineered for trouble free operation on every brand of machine inserter. You spend a lot of money on equipment to automate the insertion process, don't let poor quality envelopes reduce these efficiencies.
ENV-2002-B
This is our most popular standard flap envelope for customers inserting checks. This envelope is a hybrid size called a # 9 1/2 because it is the width of a #10 but the height of a #9. The extra width insures easy insertion while the reduced height minimizes "show through" of confidential information.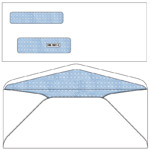 ENV-02-B
This #10 double window is our #1 selling standard flap envelope. Time and again, it has proven the solution when other vendor's envelopes didn't get the job done.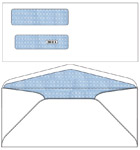 ENV-1002
For those using a single window and a preprinted return address, this is the solution for you. Custom printed envelopes are printed quickly and at a great price!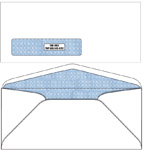 Numerous Other Envelopes Available
Our vast experience with inserters and inserter friendly envelopes means we can custom produce any envelope size or window position you need; using the same window and production dies that have proven themselves over the past 15 years!
For more information please contact krista.hurley@ourpartners.com or mike.ryan@ourpartners.com.